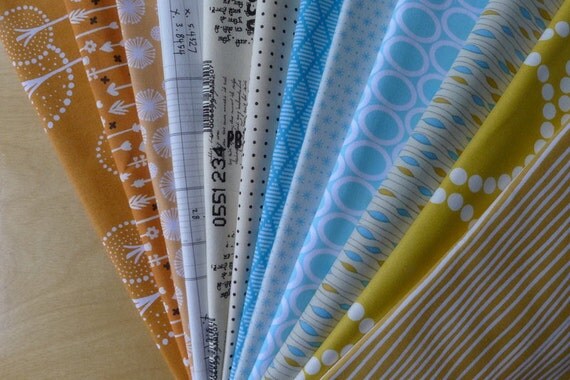 I'm thrilled to announce that
my blogger bundle
is now up for sale at
Tactile Fabrics
on Etsy! Jennifer was kind enough to let me have some fun with the wonderful modern prints she has to offer in her shop, and I absolutely love the result. California Road Trip is a fabric stack that reminds me of many a trip I've taken on Pacific Coast Highway, my home state's famous Route 1. I chose a palette of aqua, yellow, orange, cream, and white -- with a few text prints in there too (you know I couldn't resist!). It's everything that reminds me of summer, and I can't wait to get one of these bundles myself to start working on a picnic quilt to use with the kids. You can buy either a
fat quarter
or
fat eighth
set, depending on where your fabric budget is this month. If you make anything with this stack, please do share pictures with me. I hope you enjoy it!
I ran out of time for last week's Zakka project, but I'm back on schedule with today's adorable tea cozy set. Picking out the fabrics always takes the most time, but what fun it all is!
I switched the order of "tea" and the teacup only because I liked the colors better this way. I've been saving some of these prints for a while, and it's great to finally see them in use.
I absolutely love this teabag caddy. Such a simple but incredibly useful project. Wouldn't a larger version of this be perfect for holding note cards?
I used a hair elastic instead of string, and the button is from a set that I purchased on Etsy from
RetroNaNa
. She has an incredible selection of buttons on there if you have time to take a peek.
And don't forget that this is week 3 of the Let's Get Acquainted New Blogger Blog Hop. Stop by
Plum and June
to see all the great bloggers who are sharing with us today!
Linking up with the
Zakka Along
and the
Let's Get Acquainted Monday Linkup
.